Back in 2015, I wrote a short note about my new technology setup [hello-world]. Here is a summary of the changes since then.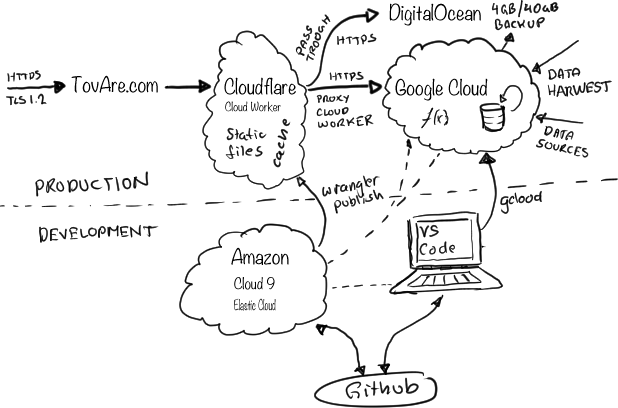 Infrastructure and hosting:
Cloudflare as primary proxy/protection/cache, I previously used Nginx on my server as a proxy.
Cloudflare workers for static sites. Cloudflare's low-latency workers (cold start 5 ms) using javascript/wasm distributed via CDN. Key-Value storage for static assets.
Google Cloud Functions for minor functionality. The latency of cloud functions can be high with high cold starts (Often 1 second or more), and their model for scalability allows for less in-memory optimization. They are great for some services and scheduled pub/sub-tasks.
Google Firebase
Dedicated virtual server: I still have a dedicated server because stuff is running on it.

DigitalOcean droplet.
SSLMate for the certificate.

Other temporary servers on Amazon EC2
Cloudflare is key in all of this, to bind it all together. Monthly cost breakdown:
Cloudflare: $5 (Workers w/storage)
DigitalOcean: $30
GitHub Pro: $7
Google Cloud: $0.28
Amazon Web Services: $2.98
The free tiers on most of these services are fantastic, and services that only consume resources when they in use have a massive impact on the total cost. On the Amazon Cloud9 service, you can also have micro-instances for free. The Go language has a relatively small memory footprint partially due to its native UTF-8 support and fast startup-times, so you get a lot done using the lowest Cloud Functions-tier available. Github recently improved its free offering, so the Pro-level might be overkill. I got it mostly due to a massive amount of private repositories. My old server sticks out a bit as very expensive; it is fast and capable, and you can´t beat a live server for low latency, perhaps except for distributing code globally in a CDN, as is the case with Cloudflare workers.
Technology:
Hugo with markdown or static HTML for content.
Javascript for cloud workers and web components.
Go for API-endpoints and processing.
R for statistics, but I have stopped using RMarkdown for content management and don´t run the server anymore.
Python for machine learning scripts
WebComponents with the Hybrids library.
Tools
Still using Cloud 9, but it´s now part of Amazon.
Favorite local IDE is Microsoft Visual Studio Code, used for Go and Python.
Rstudio for R, it is just so simple to do some stuff in it.
Github Pro for version control.
Evernote for capture.
Paper and pen.
More mechanical pencils than five years ago. My favorites are:

Pentel GraphGear 1000 for its awesome clip and precision.
Kuro Toga Advance for notes.

Notebooks: Moleskine, Leuchtturm1917, or Rhodia, but I have changed from hardcover to softcover.
Clip Studio Paint for graphics and a Cintiq 16